Top 10 Best Beach Clubs In Bali
What's a holiday in Bali without spending some time soaking up the sun at one of its world-famous beach clubs? Located all over the island, a Bali beach club is the perfect summertime fun, with amazing views, dlaelicious food and cocktails, great music, awesome ambience and great service. Where else can you enjoy all of these in one place and in one sitting?!
If you're looking to explore the island's impressive array of beach clubs, then you're in luck because we've handpicked the best for your next island getaway. Here are 10 of the best beach clubs you must visit while you're on the island: 
1. Finns Beach Club & Finns VIP Beach Club
 One of the most popular beach clubs in South Bali, Finns Beach Club adds a glamorous touch to Berawa Beach with its breathtaking and unique bamboo edifice that guarantees unbeatable sunset views from wherever you may be sitting. The infinity pool has underwater speakers and a swim-up bar and is jam-packed with sun worshippers as it overlooks directly onto the sandy shores of Berawa Beach. It's a nonstop party here with music and DJs on the decks, and plenty of room indoors for the gourmand who prefer to indulge in the club's amazing menu. Finns Beach Club is also the site to some of the hottest parties and concerts featuring live music and internationally renowned DJs and artists.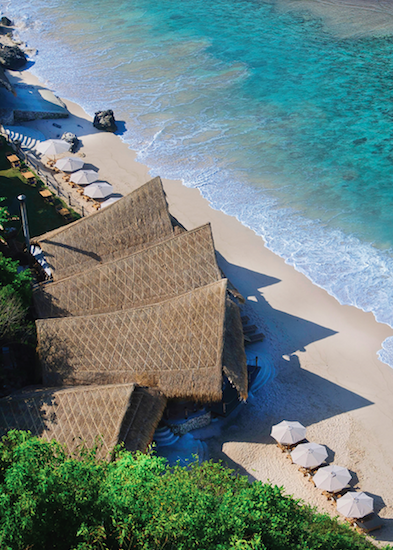 The newer and unbelievably exclusive Finns VIP Beach Club is an impressive 5-star venue sprawled across acres of beautifully manicured beachfront land. It is all about opulence and the superstar treatment which begins even at the entrance. There is a spa, a rooftop bar, a lush green lawn with daily picnics and rows upon rows of startlingly white day beds and umbrellas. You won't complain about the uninterrupted views, full-on services like free-flow mineral water, complimentary sunscreen and sunglasses cleaning and for those feeling lavish, a private 2-Bedroom Penthouse for rent. According to the club's website, there are 4 pools, 9 bars and 5 restaurants all within one fabulous venue!
If you're looking for something a little more bohemian, this charming little beachfront venue might just do the trick. The entire space is built from reclaimed wood from more than 500 fishermen boats, making it one of the island's most sustainable and trendy venues yet. There's an underlying  theme to the ambience, similar to its sister clubs La Laguna and La Plancha, with quirky touches like rope nets strung in between trees, mismatched beanbags, seashells, antique buoys, handmade fishing rods, straw baskets, fishing nets, hand weaved chairs, benches and swings, all coming together to create a magical beachfront nook that you won't want to leave! The kitchen here serves seafood and signature Spanish cooking and of course, tall and delicious cocktails to accompany your next sunset sesh.
3. Tropicola
No doubt you've heard of Motel Mexicola, and now the same people behind one of Bali's most popular brands bring to you Tropicola, Bali's freshest beach club, a fabulous beachfront venue that promises a riot of movements and colour. It's an 80's leaning pool club with clean lines, bright colours, cascading plants and an amphitheatre-shaped towards the beach that showcases views of the "golden mile" of Seminyak beach (and beyond) from every vantage point. Memories of Miami, Acapulco, Palm Springs, Tulum and Playa Del Carmen are woven into a drink and dine beach club unique to Bali. The place features three bars that sprawl over multiple levels surrounding two pools along with a colourful list of drinks and a menu of wood-fired cooking. It's a paradise by the sea for everyone – the perfect day, the perfect night.
Top 10 Best Beach Clubs In Bali
Who doesn't know of one of Seminyak's most popular and legendary beach clubs? Potato Head has been turning dull hours into fabulous times since early 2000s and continues to do so at its signature venue featuring antique wooden windows salvaged from all over Indonesia in an amphitheatre-shaped-building. The entire space is large and impressive, featuring four restaurants, four bars, an infinity pool and large lawn, all overlooking the Indian Ocean. It seems like good times live here in this iconic club, along with dance parties, exhibitions and installations including both local and international DJs, musicians, artists and architects. The food here can rival any Michelin-star restaurant with farm fresh ingredients inspired by Head Chef's travels. Simple, stylish and full of flavour, there are seafood sharing platters and simple bar bites to nostalgic desserts, poolside snacking to elegant meals overlooking the ocean. Don't miss out on the award-winning wine list and tropical conscious cocktails!
5. KU DE TA
Before anything else, there was KU DE TA, Bali's original sunset destination and the pioneer which inspired the slew of similar venues to mushroom up all over the island. An elegant open-plan venue, KU DE TA borders the beachfront with a lush central lawn for events and parties, an infinity pool with an array of day beds and umbrellas, a main restaurant area and bar and a private loft for private bookings. If you're an early riser, head here for nourishing and sustainable breakfasts from 8am. From casual breakfast and day-to-night time grazing, through to a la carte dishes and relaxed fine-dining, the chefs at KU DE TA use only the finest ingredients sourced locally and made on site whenever possible. The beach club is also the site to MEJAKAWI, a relaxed and informal fine-dining experience featuring scalable tasting menus prepared in the open kitchen and served to guests against a striking backdrop of the Indian Ocean.
One of the Seminyak's most popular beach clubs, located on Double Six Beach, Cocoon first opened in 2010, offering great taste and good times in an awesome and elegant ambience at amazing prices. Famous for its epic parties and poolside sojourns, the vibe here is always pumping, with nonstop action happening every day by the pool. The club is family friendly during the day and the food here is one of the very best with amazing value for money; the Head Chef Komang has been with the club since pre-opening and is well known for his intuitive techniques in preparing perfectly cooked and exquisitely presented meals that will surpass your every expectation. Try the steak; it will melt in your mouth! The menu is varied with local and international selections, with vegan, vegetarian and gluten-free options. Buy 2 get 3 cocktails are available every day along with weekly events featuring the most sought-after DJs and fun dancers. Upstairs at Cocoon is a spacious private space that is available for private bookings, events and weddings.
Top 10 Best Beach Clubs In Bali
Nestled amidst towering cliffs in Bali's Bukit Peninsular, Sundays Beach Club is like a private piece of paradise. A beautiful bamboo structure faces sparkling white sands, clear turquoise water and of course, luxury amenities for your every need. The beach club is so exclusive that you'll need a ride in an inclinator to reach it! Entrance fee is at IDR 400,000 per adult and IDR 200,000 per child and comes inclusive of food and beverage credit, full beach club and inclinator access, towel, WIFI, snorkelling equipment and stand-up paddle boards. Massages are available at an additional fee and when the sun sets, you could join in the beachside bonfire and sit back with a tall drink in your hand while listening to relaxing live music. The food here is nothing short of excellent with Australian Chef Josh Tyler at the helm. Choose from breakfast, all day and drinks menu. You could spend all day here without even realising it!
8. OMNIA Bali
An Insta-worthy cliffside destination, OMNIA Bali boasts majestic and uninterrupted views of the Indian Ocean. This perfectly and beautifully designed exclusive day club is perched 100 metres above sea level; the venue is unique to anything else on the island offering an all-encompassing daytime experience that features an array of VIP areas, the hottest international DJs and artists and unbeatable VIP service. The day club is located next to Sake No Hana, a premier Japanese Restaurant by the same owners of OMNIA (Hakkasan Group) and serving modern takes on classical Japanese delights.
Another impressive eco-friendly bamboo structure that houses Bali's first ever TIKI Bar but this time overlooking to the legendary Padma Beach with its serene stretch of golden sands and that iconic Bali sunset. There are three levels to explore: the second floor houses an open-air restaurant, infinity outdoor adult-only pool with sun loungers and private dining terraces. From here and the third floor, you'll enjoy the amazing sky and ocean views, and just wait till sunset! Cosy and inviting, AZUL Beach Club remains elegant and chic yet it doesn't give off a pretentious vibe. Everyone is welcome. Bars are located on both the ground floor and the second-floor serving TIKI-themed signature craft cocktails. There are plenty of cosy semi-circular booths and tables for those who want to enjoy delicious Indonesian, Asian or International meals, beach bites, fresh seafood and thin-crust pizzas. Leading the kitchen is Chef Arief Wicaksono, one of the most celebrated chefs in Bali.
Bali's famous sister island, Nusa Lembongan is also home to island-chic Sandy Bay Beach Club, an all turquoise, blue and white venue that promises carefree beachfront living. Designed with rustic beach-chic elegance, set against the backdrop of nature's raw beauty, Sandy Beach Club is just steps away from Lembongan's famously crystal-clear waves and sparkling white sands. It is a world away from mainland Bali's traffic jams, hustle and bustle and hectic pace. A freeform pool overlooks the beach and guests are encouraged to relax and unwind on oversize sun beds, plush sofas and bean bags on the beach. The food menu gives some of the larger beach clubs a definite run for their money, with enticing grazing and larger plate selections like Tacos with Spiced Prawns, Duck Confit, Australian Sirloin and the ever-popular Beef Rendang. There is also the breakfast menu, kids menu and the pizza menu as well as an extensive cocktail, wine and beer menu. Vegetarian and vegan options are also available.
Planning a trip to Bali? Book your dream villa with Beach Bali Villas for the most beautiful, new and newly renovated, modern, contemporary and traditional style villas in various locations and settings throughout the island.